This weekend was a blast! I met lots of people, made new friends, and heard a LOT of great music. So here it is... my view on the weekend.
The whole trip started Thursday August 13th when I bawled my eyes out as my mom left the house to take my daughter to the pool so I wouldn't have to see her cry when I left. Instead I cried anyway. I made it to the airport in PLENTY of time for my flight, just to find out that it had been delayed. First an hour... then an hour and a half... then almost two hours. Finally at 7:48 we pulled away from the gate... we were schedule for 6:14 originally.
I landed at Baltimore/Washington International Airport at 9:55. I finally got to see Nikki, Vicky, and Jeanette. YAY! We made our way to Elexses house... but not before gorging on McDonalds on the car ride there. The night was interesting as we cracked up at stories, pajama choices, black people on TV, being sad, and the cow noises coming from Elexses computer.
Finally, at 2:30... we shut the lights off and went to bed.
Before we knew it... we were waking up at 5 am to get ready to leave for our 10 hour road trip to Detroit, Michigan. At 5:35, Elexses comes out of her bedroom saying, "You bitches are still awake?" which caused another fit of giggles. At 6 am we all piled into the cars and headed out, dropping Nikki's car off and heading out of the state of Maryland. The trip was long! Full of numb asses, switcharoos on seats, rest stops, and ding dongs.
We arrived at the hotel in time to dye Nikki's hair... Vicky and Nikki to get ready, us to get some grub, and them to leave for an evening with the Bell's. After they left Elexses and Jeanette decided to take a dip in the pool and I went off to meet up with Megs, Gallie (Camille... I don't get it) and Lisa! I was very excited and tackled Megs! LMAO! Well, almost knocked her over lmao. Anyway, we all hung out for a while until Jess showed up. I jammed with my beer and ipod as I walked the halls of the hotel! YAY! Jess' ass finally showed up and we all sat outside the doors of the hotel, drinking beer, vodka and orange juice (No officer we are low on Vitamin C... it's just OJ) and dancing, smoking, and having a good ol time.
At about 12:30 Nikki and Vicky showed back up and we all made our way off to our rooms to get some rest.
**August 15th**
We woke up... got around... and walked our happy asses to KFC for lunch. After a quick freshen up, run to rite aid for cigarettes and chap stick, we headed to Callahan's. We were barely out of the car when Heather (RONAGAL) made her way to me to say hi! **Nice to meet you heather**
Once inside I met Bill Bell, and a few other monkey ladies... (Allison). The show started and was AMAZING. The Stevedores are freaking AWESOME live! I love them. And more power to Ben J for playing 4 performances back to back! Gotta love that guy!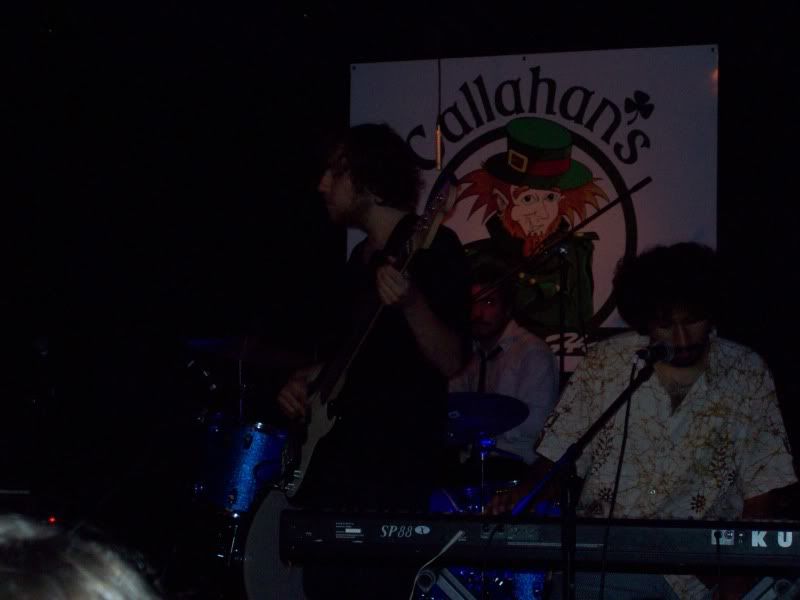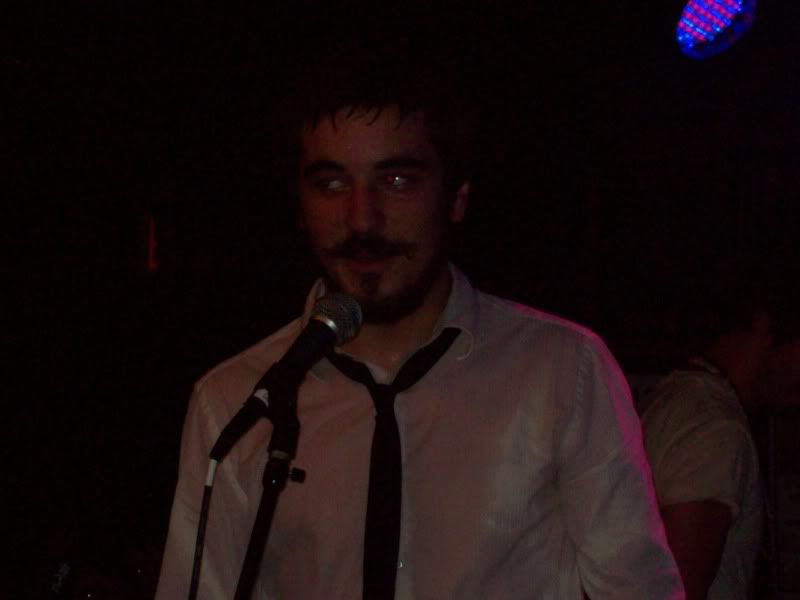 After the Stevedores was Tin Tin Can and the Dan Graupner. Tin Tin Can's music sounds SOOO different live... good... just different. Dan Graupner was awesome and rocked out some spencer music for us acoustic style and cut his finger in the meantime. After that, there was a small break before 100 Monkeys took the stage. Jackson was out... but the energy was definitely there. It was very nice to see Ben G, Ben J, and Jerad take on more singing than normal.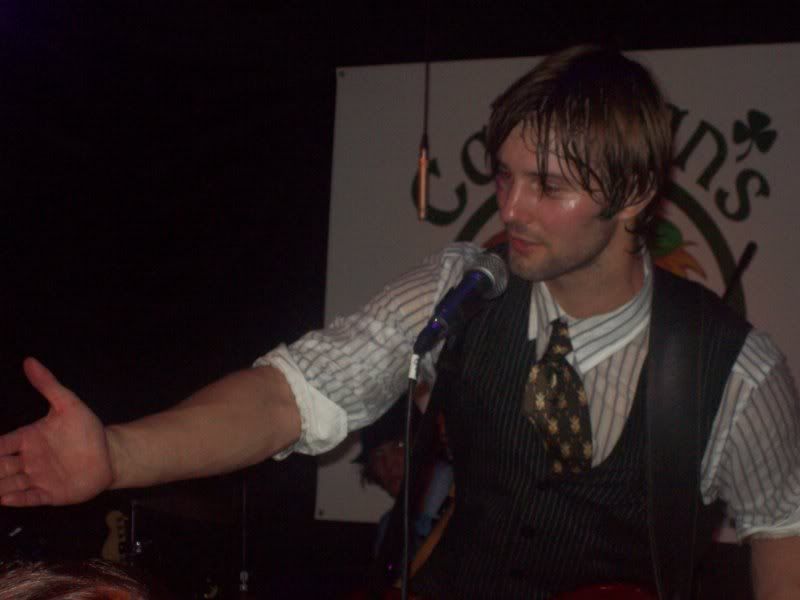 I loved it. They did their old music, new music, and even a few Spencer Bell covers, including The Monkey Song (a favorite among fans) Violin (off the new Live & Wasted album) and more. Another favorite was the resurrection of Wing on Fire! Awesome song!
We even had some Uncle Larry on the drums. (See above picture)
We took a quick break, and came back for round two... the much anticipated and SOLD OUT 21+ show. The energy was definitely up! This show was spent listening to music and talking to the bands. Drew and the Medicinal Pen showed up for this show and I had a blast talking to Missy, Anna, and Drew. The girls are hillariously funny!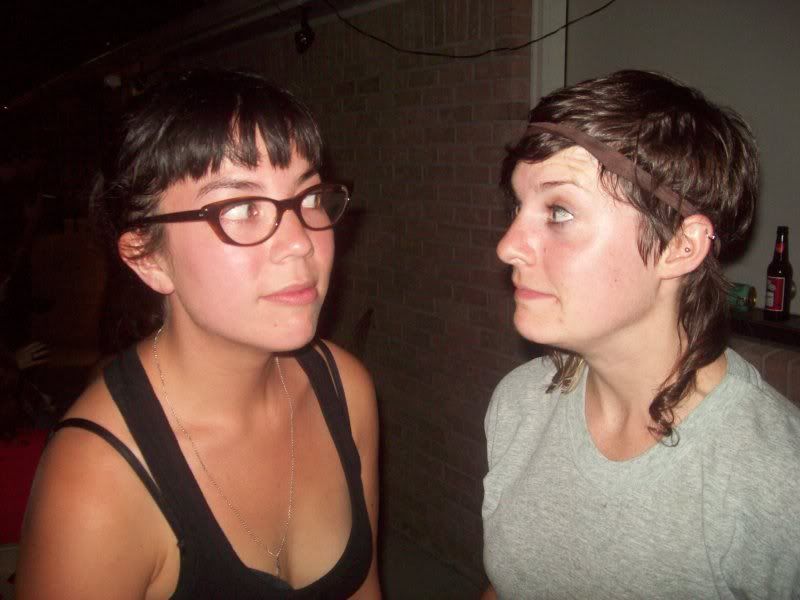 The show was kicked off with a shot that all the bands took in memory of Spencer and a toast to all the attendees. I spent time out on the back patio and by the parking lot hanging with friends, meeting the bands, and making new friends.
That is Jerad after he tells me he hates Nikki's face. I love him! He might have been bumped up to coolest fucking monkey because later he walked up to Nikki and said... "I hate your face Bitch". BAHAHA!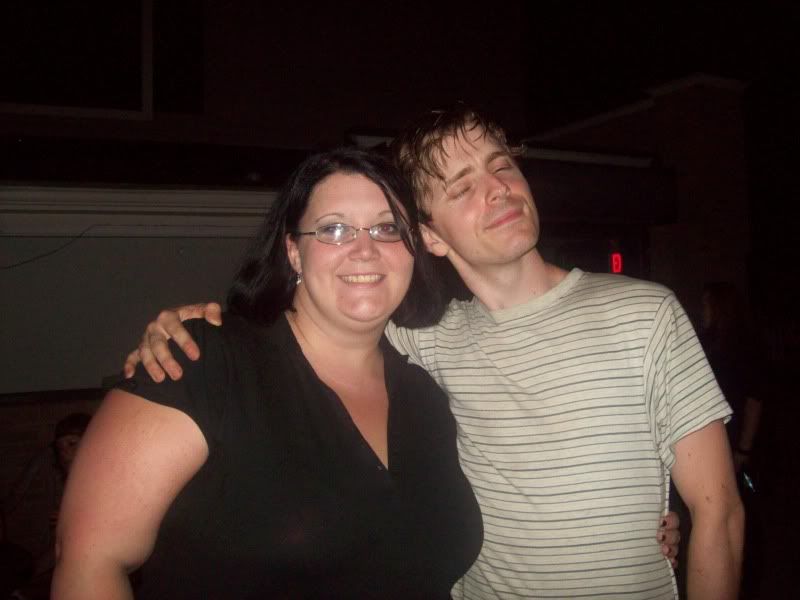 So to sum it up... it was amazing.... the crowd was hype...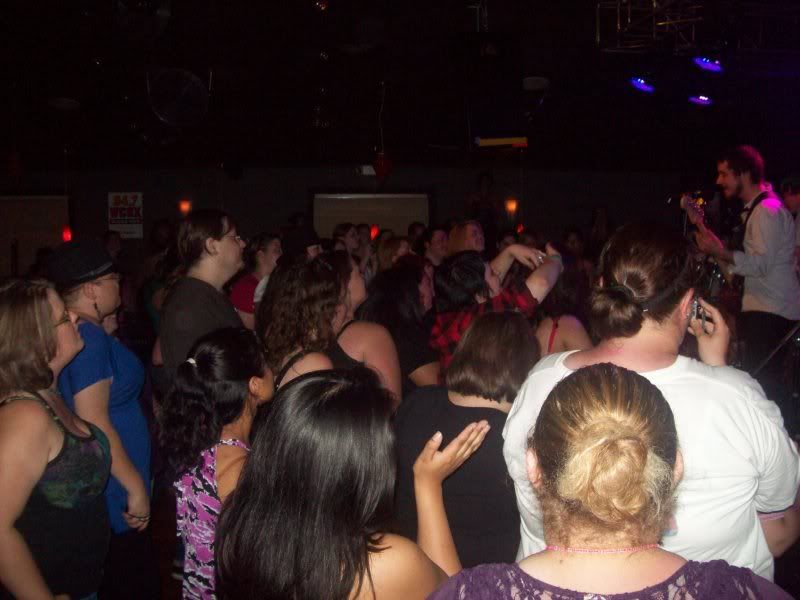 The music was AWESOME.... (www.SpencerBellMemorial.com)
and the final jam session with all the bands was amazing!
And nothing like talking to Jerad to close up the evening!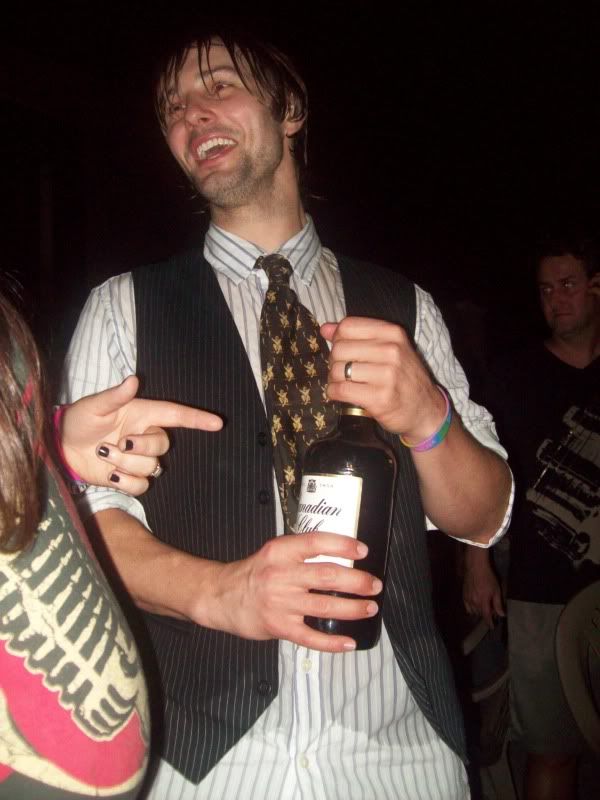 The ride home was long... and the stay at the airport was horrible... but... I'm home... I have good memories... good friends... and I can't wait to see you all at the next one!
~Kristin